Members can request payment from the Request Payment link found on the their account page.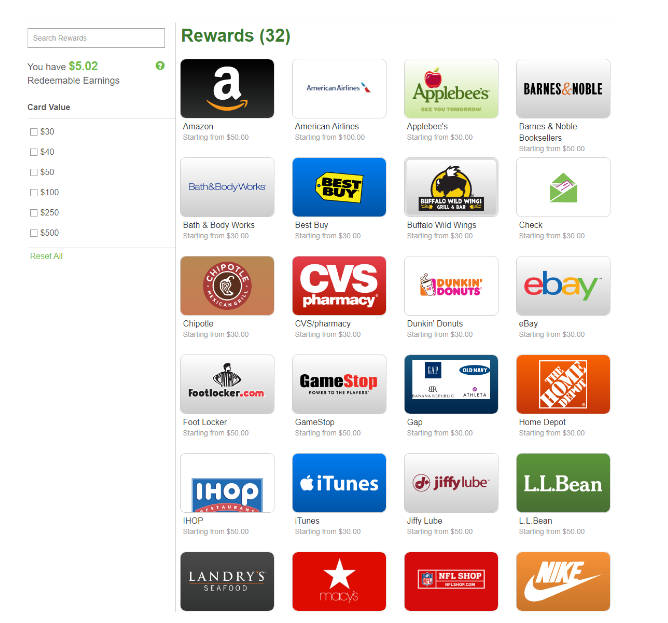 Members will receive a notification email once the payment request has been received in our system and again when the payment has been processed. This will come as a Gift Card Pending email or Check Pending Email notification.
Checks:
Make sure the mailing address on your account is up-to-date and accurate! Many times a payment get's lost due to incomplete or inaccurate address on Member account.
Before contacting LiveChat please make sure that the mailing and email address listed on your account is accurate!
When contacting LiveChat Agent they will review your account and if necessary escalate your inquiry to our Rewards team to review and assist further.
Checks are sent via US POSTAL SERVICE so please allow at least 2 weeks for delivery. Longer delivery time may be due to weather related issues or holidays. Checks sent via US Postal Service will generally arrive within 3-10 business days depending on your US Location.
Checks are processed every WEDNESDAY
Gift Cards: (Merchant gift cards/including Visa)
Gift Cards are processed on average within 3 days of redemption request being received.
This processing date can be affected/altered due to merchant, holidays, or when an account is under review.
Members must select the payment option carefully because once the gift card is processed we are not able to return or refund the gift card back to the account.
Members are only able to have 1 pending payment at a time. If you attempt to request a payment that is pending you will get this message:
You can also check your activity page to see the payment history and status for up to date information.
If you order a Gift Card your InboxDollars Payment email with redemption link and code will arrive the same day your payment is processed. You will need to use this link and code to order the option you prefer as cards are not automatically mailed to you.
The amount available to you to redeem will be shown based on the option selected.
Missing Payment Processed:
If you requested a payment and haven't received the payment to redeem or the check once processed, then please check your payment processing date (located on your Activity page) to be sure processing of the payment had occurred.