You can earn cash credits from retailers that primarily sell food, household, health or beauty items.
These retailers include Grocery/supermarkets, Super centers, Club stores, Dollar stores, Drug & pharmacies, Convenience, Corner stores, Beauty supply, Pet supply, and Toy stores.
Please note that errors that occur during scanning can be due to a variety of reasons not related to the app, feature or site such as network connection, compatibility issues, improper scan, receipt is outdated, not approved by the advertiser or other where crediting would not be eligible.
Here is a list of stores that are eligible: STORES LIST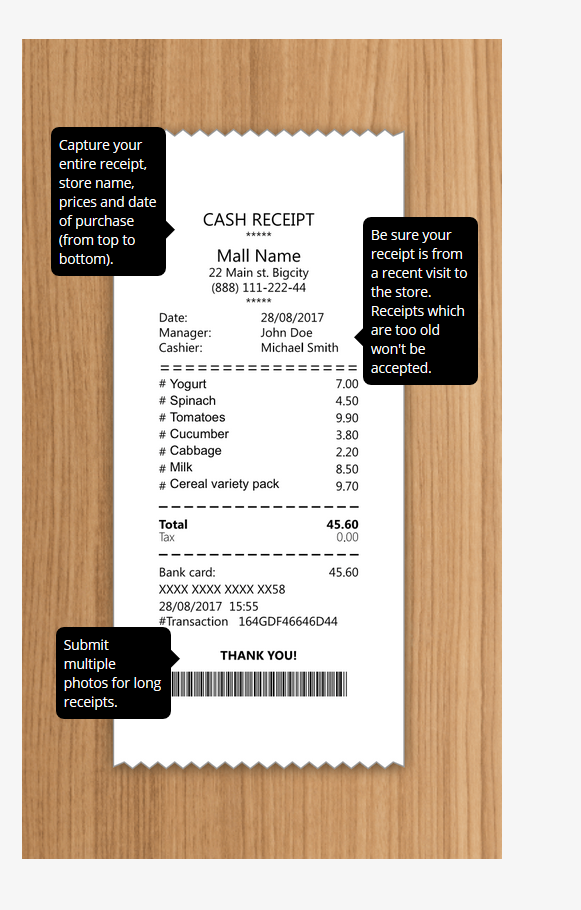 How to send photo to computer on iPhone and Android
Using the Camera app, snap your picture.
Select the best method of how to export photos to your computer
Using Windows Import Utility
Connect the phone to the computer using the USB cable.
Select "Import pictures and videos using Windows" from the Autoplay dialog box that pops up. If the Autoplay dialog does not automatically appear, press the Windows Start button and select "Computer" from the Start menu. Right-click on the iPhone icon in the file browser window that opens and select "Import pictures and videos" under the "Device Options."
Click the "Import settings" link to set folder options, file names and other options, such as prompting for a tag on import, erasing pictures from the iPhone after import, picture orientation and whether to open Windows Explorer after the import. Click on "OK" when complete.
Create a tag for the photos, if desired, and then click on the "Import" button. The computer copies the photos from the iPhone to the designated folder, which defaults to "My Pictures" unless you change it in Import Settings.
Disconnect the iPhone from the computer. Open the "Recently Imported" folder under Windows Photo Gallery when the program launches.
Using Windows Explorer
Connect the iPhone to the computer using the USB cable.
Go to the Start Menu and select "Computer."
Double-click on the iPhone icon under Portable Devices. Double-click on "Internal Storage" and then the folder "DCIM" to access the pictures on the iPhone.
Right-click on the folder and select copy to transfer the entire contents of that folder to the computer. Otherwise, press the "Ctrl" key and simultaneously click on the individual photos to copy, right-clicking within the selected photos and choosing the "Copy" option.
Paste the photos in the destination folder under Windows Explorer.
Disconnect the iPhone from the computer.
Using a Mac
Plug your iPad or iPhone in to your Mac.
Open iTunes, if it doesn't open automatically.
Click on the iOS device in the top bar, then click the Photos tab.
Choose iPhoto or Aperture from the "Copy photos from" drop-down menu.
only 1 receipt may be submitted at a time
Attempting to upload multiple receits for duplicating credit is not permitted.