Refer Friends Program (Effective Sept 24, 2018)
Promotions on this feature can occur and can change based on the time frame listed on the promotion. A referral is considered as qualified as long as the referral activates the account after Signup and meets the requirements per the terms & conditions. Activation after the promotion dates will result in the standard Referral Program terms. To be eligible, the referral must create account AND activate account.
https://www.inboxdollars.com/refer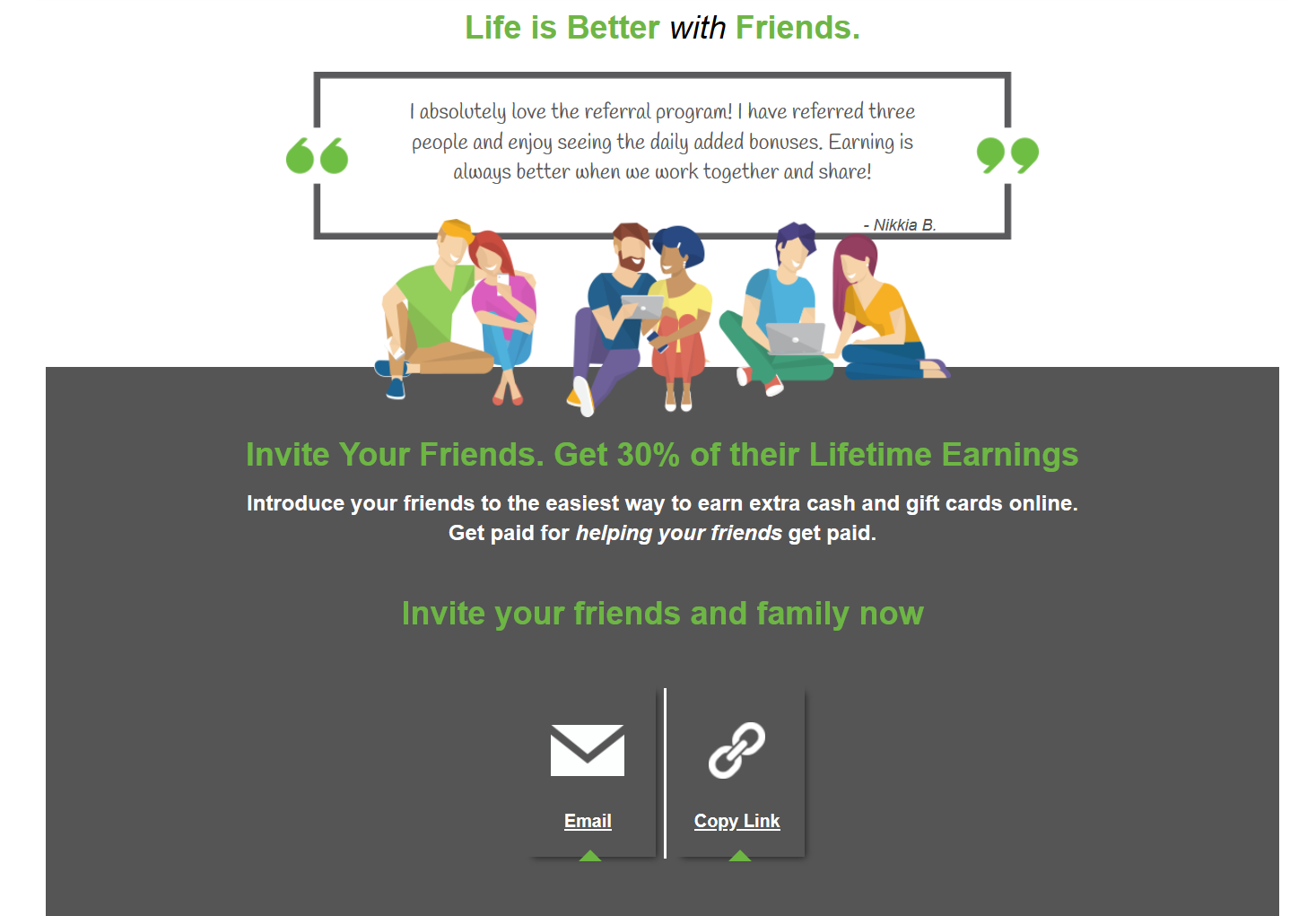 Refer Friends Program
How it Works -
1-5 Referrals:

For each new sign up and activation the referrer will earn $1.00 for each once the account is officially activated. Referrer's can earn up to a maximum of $5.00. (5 referrals at $1.00 per referral) PLUS 30% of qualified earnings! (Excludes Sign Up Bonus, Profile Surveys and new member account set up crediting)


*NOTE:InboxDollars only permits 1 account per person, household, computer, address or network IP. Duplicate accounts will be closed and earnings forfeited.

6 or More Referrals:

You will be eligible to earn 30% of your referral's qualified activity earnings completed (Excludes Sign Up Bonus, Profile Surveys and new member account set up crediting)
In Addition -


Members can

earn 30%* of their NEW referrals earnings as well as from prior referrals

There is no earnings cap for how much you can earn from your referrals.
VIDEO : https://www.youtube.com/watch?v=x2d6EuaQAoE&feature=youtu.be
Refer Easier with CloudSponge®! Now you can select your friends from your own Email Contact list to send off referral invites faster and easier!
Limit of 20 referrals per day -
Go to inboxdollars.com/refer on desktop or mobile

Click Email
You'll be prompted to login to your email service provider at this point
Leave all settings (i.e. read/write access) to default and login
Choose which contacts you want to send referrals to from your address book
Once those are selected, click "Get x Contacts" to send them an email
Good to Know!
You must be logged in to InboxDollars to send referrals. There will be an error that says this if you attempt to send referrals without being logged in.

CloudSponge applies to Desktop and MW platforms at this time

Note: Accounts found to be in violation of the terms in regards to the referral program may have their account terminated and/or disabled from the referral program.
TERMS & CONDITIONS:
Accounts found to be violating the terms & conditions will be removed and earnings lost. Members must read and follow all terms & conditions to be eligible. https://www.inboxdollars.com/pages/terms
* This set flat earnings percentage amount can change and members will be notified of the change at first opportunity.